Reading Time:
3
minutes
BabyDam: The essential baby bathing device
In this article we will discuss why we, and thousands of our customers, understand why every parent needs a BabyDam!
At face value the main selling point for a BabyDam is the amount of water you will save over the years, the savings in water and energy alone means that the BabyDam does pays for itself over and over! You can learn more about BabyDam's savings here.
Many parents have used BabyDam continually with additional children as they arrive, we've experienced customers who have used BabyDam for up to five years with three different children!
With providing parents with the solution that they have all been looking for, but there really are many more advantages of the BabyDam  that help make parents life that bit easier!
Keeping your child away from those pesky taps
The BabyDam can be positioned at either end of the bath, many children are drawn towards playing with the taps which can be a major danger hazard for all ages. By positioning the BabyDam and blocking off the taps you are already preventing a potential accident, the portion of the bath can then be filled up with a shower head, or jugs of water.
Making the transition to a family sized bath
After a child spends months in a tiny baby bath which they then outgrow, being placed into a family sized bath can cause them to have an inexplicable fear of getting into the bath. The bath seems huge and scary to what was a cosy and small area to sit in.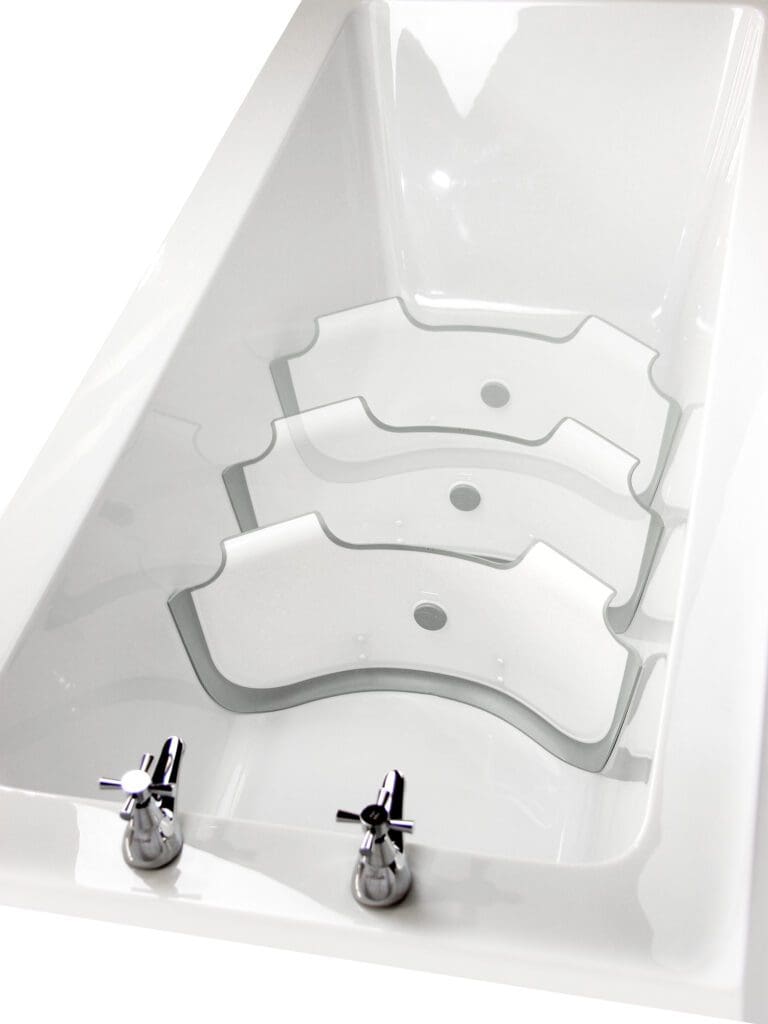 As mentioned previously, the BabyDam can be placed anywhere in the bath, and which becomes synonymous with babies at bath time once they get used to it. Allowing them to become used to a full sized bath, yet within a smaller cosy area of it.
The BabyDam also allows you to increase babies bath size, as they grow accordingly.
Stopping those toys from floating away
The BabyDam helps to keep all of babies toys in one place, without the fear of them floating off and your baby trying to reach them.
After running our #smileforeaster competition on twitter we discovered that one of the most common reasons for wanting a BabyDam was to stop their child's toys floating away!
SAVING WATER!
Last but not least is the main reason that the BabyDam was invented, and the main reason why people purchase a BabyDam. For what is sometimes only 10 minutes of fun for baby at bath time, the BabyDam saves a huge amount of water, by filling up only the area that you need, in less than half the time it takes to fill your full bath to the same height.
Having a smaller, more concentrated area not only keeps the bath water warmer for longer but it's eco friendly and stops waste when so many others don't have enough.
Due to filling a much smaller area of the bath it halves the amount of time you usually spend waiting to fill the bath.
BabyDam saves, water, energy, time and money!
The four things most parents never have enough of – but with the BabyDam we are changing things for the better!
We could list the endless advantages of having a BabyDam, but we might be here all day!
BabyDam really is the solution that all parents have been looking for, and we have been helping parents all over the world for a number of years.
Join the fun and buy a BabyDam today, and you'll wonder how you ever coped without one! Existing BabyDam users what are your main reasons for using one?